Step up to the entry of the Milton Community Hall. Climb the several steps, or come up the gently sloped ramp
Main Floor
Upon entering the front door you can see the wheelchair accessable Men's and Women's bathrooms.
Browse through the posters of upcoming events and grab a business card from our Sponsorship board.
The Community Council Development Office/Sound Room is further down the hall on the right. The door on the left leads upstairs, or downstairs or outside to the spacious deck.

The kitchen features a 6 burner stove with griddle, a refrigerator and ample preparation space, 6 sinks and a commercial dishwasher. For more information about "What's in our kitchen" check out our Facebook page! https://www.facebook.com/media/set/?set=a.844701732279988.1073741837.380730012010498&type=3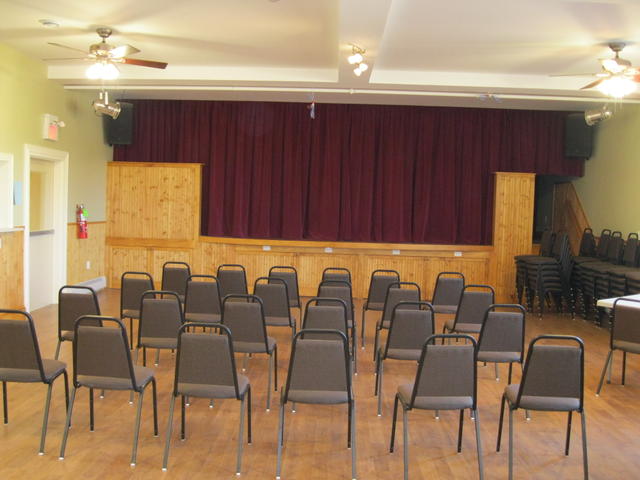 The auditorium, which is approximately 44 x 27 ft, also features an elevated stage.
Upstairs
At the top of the stairs there is a small foyer leading to the bathrooms and the FCC Community room. At the front of the builing the Community Council office can be found along with the spacious board room.
Off of the FCC Community Room there is the Seniors Room. Welcome to all seniors wanting to socialize, learn computer skills, rug hook or do almost anything else!